Imitation FIMOR squeegee, thermal transfer, abrasion-resistant and solvent-resistant squeegee 25 * 5 * 3660, flat squeegee
Detailed Product Description Material: PU Custom Processing:: Yes Type: Squeegee Color: Green Functional: Wear Resistance Use Range: Screen Printing Ink Hardness: 55 Shore A~95 Shore A Imitation FIMOR squeegee , thermal transfer, abrasion-resistant and so
Detailed Product Description
Material:
PU
Custom Processing::
Yes
Type:
Squeegee
Color:
Green
Functional:
Wear Resistance
Use Range:
Screen Printing Ink
Hardness:
55 Shore A~95 Shore A
Imitation FIMOR

squeegee

, thermal transfer, abrasion-resistant and solvent-resistant

squeegee

25 * 5 * 3660, flat
squeegee
1. Imitation FIMOR squeegee instruction manual
2. Degrees: 65 degrees (red) 70 degrees (milky) 75 degrees (green) 80 degrees (milky) 85 degrees (blue)
Screen printing squeegee of application:
Widely used in PCB, membrane switch, advertising, ceramic flower paper, etc.
Screen printing squeegee characteristic:
Good abrasion resistance, sharp blades, easy to grind fingerprints or machine prints, different colors represent different hardnesses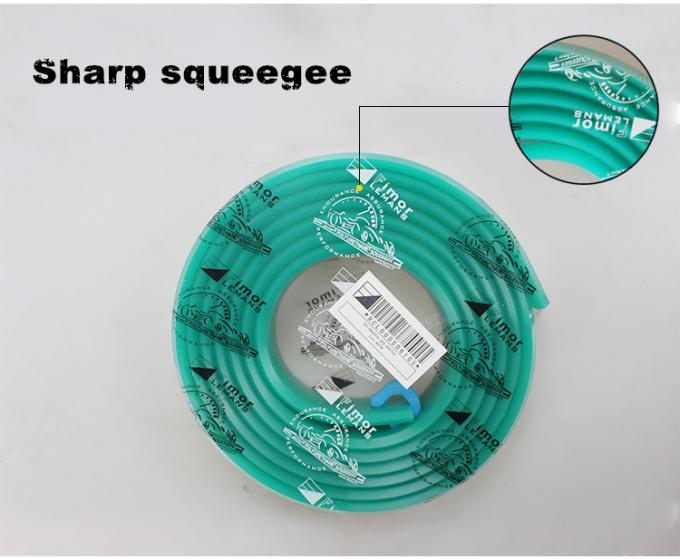 Screen printing squeegee Explanation:
Soft rubber squeegee (65 degrees) can get thicker ink layer and higher coverage when printing. A thin ink layer can be obtained when printing with hard rubber (85 degrees), which is more suitable for UV ink printing with very fine fonts and lines. Try to avoid over-pressing the squeegee on the screen. This will cause the ink layer to be extremely thick, difficult to control, and excessively wear the screen. Therefore, the correct way is to make the ends of the squeegee and the edges of the screen proper. Distance and then print with appropriate pressure. When putting the squeegee into the grip, do not apply excessive pressure or use too thick a size to force the squeegee in. Instead, use the squeegee at rest rather than continuously.
Screen printing squeegee clean:
Wipe off excess ink with a cloth first, and then wash with a softer cloth with a suitable solvent. Do not use strong solvents, especially ink thinner, to clean the squeegee. After grinding or before re-use, the squeegee should be allowed to stand completely to make the solvent on it completely volatilize.
Pre:Screen Printing Starter kit Include 8 x 10 Inch Silk Screen Printing Frame with 110 White Mesh, Screen Frame Butterfly Hinge Clamp and Tools for Screen Printing
Next:Flat Scratch Resistant Solvent Ink Scraper Screen Printing Squeegee Strip
Tags: