SMT Stencil Pcb Screen Printing Frame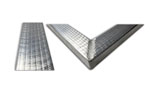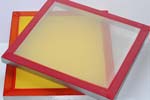 Description
Why Choose Our SMT Screen Printing Frame ?
1.The product is colorful and careful, and the stability is good !
2.Various specifications can be made !
3.Customer service reception before and after sale !

SMT Screen Printing Frame Specification Table
MACROKUN supply almost all of the common size of SMT stencil.
Normal size stencil uses unified 24T,29T,36T low elongation polyester mesh, and proprietary imported epoxy adhesive,which is high precision,strong chemical resistance, durable and stable property When cleaned by Ultrasonic.
The uniformity of stretching tension can be controlled within ± 1N/cm.
Size Outside (O.D)

Stock Profile

Remark

550x600 mm

30x40 mm

Customize size available.
The tolerance of the overall dimension can be controlled within -0.5 mm
The planeness can be controlled within ±0.15 mm withstand tension >40 N/CM

550x650 mm

30x40 mm

15"x20"

1"x1.5"

23"x23"

0.5"x1.5"

23"x23"

1"x1.5"

29"x29"

0.5"x1.5"

29"x29"

1.5"x1.5"

29"x29°

1.575"x1.575"

Surface Mount Technology (SMT) for electronic circuit.This is called surface mount or surface mount technique.A frame is a frame used to support a steel mesh (SMT formwork), made of metal, wood, or other materials.It is divided into fixed type and adjustable type.The most commonly used is the aluminum production of pneumatic mesh frame.Simply put, a thin piece of steel is cut with some holes corresponding to the solder joints of the PCB board for printing solder paste.
1.Use AB epoxy adhesive to resist corrosion and solvent.
2.The use of aluminum frame, light and high strength.
3.Precise data control in production, to ensure that each product can give customers the best experience in the application.
4.Professional parameters of the mesh yarn, to ensure the elasticity of the product, tensile.
SMT Stencil Pcb Screen Printing Frame SHIPPING
1.Samples orders usually within 3 days shipped by Courier (DHL, TNT, FEDEX, UPS, EMS and so on).
2.Small quantity orders usually within 3-7 days shipped by air or by sea.
3.Large quantity orders usually within 7-15 days shipped by sea.
The main export port: SHANGHAI.
SMT Stencil Pcb Screen Printing Frame PARKING
Packaging Details:
All the screen printing aluminum frames are well wraped with a plastic film in pallet.
SMT Screen Printing Frame
Fast delivery, the shortest time delivery of goods
Safety First, Guaranteed and Diversified Payment
After-sales service to eliminate any concerns of customers
The product has a better price:
We are a factory that produces screen printing. The more you buy, the cheaper your price.
Product Number:

Hs Code:59112000
Customers also purchased the following products
Screen Printing Mesh
6T(15 Mesh) to 165T(420 Mesh)
Screen Printing Squeegee Blade
screen printing squeegee blades on sale at wholesale prices
Screen Printing Squeegee Handle
60 durometer , 70 durometer , 80 durometer , and 70/90/70 triple durometer.
Screen printing Aluminum Frame
Screen printing screens fulfill customers' needs and are welded for great mesh adhesion.
Nylon Filter Mesh
Nylon filter mesh with a wide range of mesh sizes and various types is widely used in the industries for liquid, gas and oil filtration.
Screen Printing Machine
we have 1 color printing machine,2 color printing machine,4 color printing machine,6 color printing machine, 8 color printing machine
Screen Printing Materials
Printing materials, printing equipment, printing accessories, printing ink, printing plates, blankets, printing equipment, and other screen printing products accessories
Mesh Filter Bag
All Macrokun mesh bags are constructed using a woven or knitted fabric.
SCREEN PRINTING FRAME WITH 120T
Screen Printing Frame 120T The screen printing fr...
10 x 14 inch Pre-Stretched Aluminum Silk Screen Printing Frame
10x14 OD. Tub.3/4 x 3/4 x 1.4mm Mesh Color: White...
230 MESH SCREEN 20" X 24" 1 COLOR PER SCREEN
Your image, pre-burned on a high-quality aluminum...
ALUMINUM SCREEN WITH 200 YELLOW MESH - 23X31IN
Macrokun provides high quality aluminum pre-stret...
Screen printing screen frame is made of what material?
Production of screen printing screen Frames mater...
Aluminum Screen Frame, 20x24" OD, with high quality mesh
1.5x1.5 Aluminum Frame Profile, (high quality) Hi...
Stainless Steel Screen Printing Frame With Mesh For Silk Screen Printing
Detailed Product Description Type: Screen Printin...
20 x 24 Inch Pre-Stretched Aluminum Silk Screen Printing Frames with 160 White Mesh
High Quality Pre-stretched Aluminum Silk Screen P...
20 x 24 Inch Pre-Stretched Aluminum Silk Screen Printing Frames with 230 Yellow Mesh
20 x 24 Inch Pre-Stretched Aluminum Silk Screen P...
Aluminum Screen Printing Frame Quality Smt Steel Mesh Screen Silk Screen Treadmill Printing Frame
Detailed Product Description Material: Aluminum T...