Stainless Steel Screen Printing Frame With Mesh For Silk Screen Printing
Detailed Product Description Type: Screen Printing Frame Usage: Screen Printing Feature: Durable Than Aluminum Material: Stainless Steel Size: As Requirement MOQ: 1 Pcs Mesh: Stainless Steel Wire Mesh Mesh Count: As Requirements High Light: screen mak
Detailed Product Description
Type:
Screen Printing Frame
Usage:
Screen Printing
Feature:
Durable Than Aluminum
Material:
Stainless Steel
Size:
As Requirement
MOQ:
1 Pcs
Mesh:
Stainless Steel Wire Mesh
Mesh Count:
As Requirements
High Light:

screen making materials

,

silk screen materials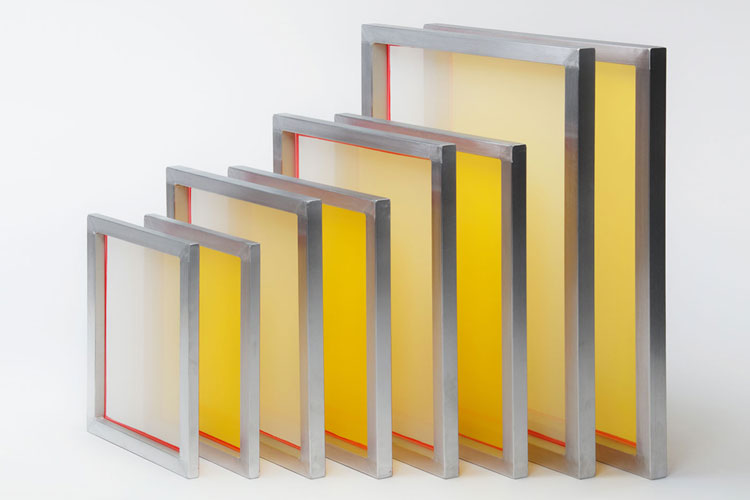 Stainless Steel Screen Printing Material Screen Printing Frame With Mesh For Silk Screen Printing
Descriptions of silk screen printing aluminum frame:
Screen printing screen frame can be divided into three types: wooden screen frame, aluminum alloy frame, and stainless steel frame. With the improvement of printing technology and the increasing demand for printing, aluminum alloy frames and stainless steel frames have appeared. More and more people use aluminum or steel mesh frames because they have water resistance and durability. The advantages, plus the stainless steel mesh frame stretch net is a stainless steel net, can print more precise products, which greatly helps the printing quality of the printing machine.
| | |
| --- | --- |
| Product Name | polyester mesh making screen printing mesh frame with mesh |
| Sizes | Custom |
| Usage | silk screen printing for multiple industries |
| Material | aluminum alloy |
| Samples | free sampe can be applied |
| Services | OEM&ODM |
Features:Light weight, wide cross-section selection, high tensile strength, corrosion resistance (chemicals, inks, solvents and detergents, etc.) and easy to clean.
Specifications:
Material Spec
Mesh Spec
Remark
35x35x1.2x1.4mm
35x35x1.2x1.4mm
38x38x1.4x1.6mm
38x38x1.6x1.8mm
43T-80UM
51T-71UM
64T-55UM
80T-55UM
90T-48UM
100T-40UM
110T-40UM
120T-34UM
140T-34UM
Raw Material:
AL6063, T5 Aliminum Alloy meets the standards of European RoHS.
Adhesive:
Germany Solvent Resistant Kiwo Glue.
Mesh:
Tension-stabilized and low elogation polyster mesh.
Tension:
18-22N/cm(measured by TETKO MAT 7-50N/cm Tension Meter)
Applications of aluminum silk screen printing frame:
1. Aluminum frame printed on platform:
Suitable for platform printing, garment printing, craft gifts, leather, plastic and toy printing manufacturers;The printing work mainly for the manual production line (platform) operations.
2. Precision electronic aluminum frame:
Suitable for multi-layer circuit board, liquid crystal display, surface mount, membrane switch, ceramic decal paper, cigarette and wine packaging printing and other high precision requirements manufacturers use: printing mainly automatic screen printing machine, part also suitable for precision semi-automatic screen printing machine.
3.CD, ceramic aluminum frame:
It is suitable for CD turntable, nameplate, glue, keyboard, plastics and shell, etc.Can be customized with a single frame and arc box, such as shaped box.
4. Large aluminum frame:
Suitable for large outdoor four-color advertising, light box printing, automobile glass, glass curtain wall and other large printing plant;Printing mainly to large screen printing.
5. Electronic aluminum frame:
Suitable for printed circuit board, decals, glass printing and other printing precision requirements manufacturers: printing mainly semi-automatic screen printing, some materials are also suitable for manual printing.
Pre:410g 710g Butterfly Hinge Clamp Screen Printing Materials
Tags: