Low Elasticity Yellow 61T Screen Fabric Mesh For Liquid Crystal Display
Description of the 110 screen printing mesh: Low elasticity yellow 61T 110 screen printing mesh is plain weave mesh and used for Liquid Crystal Display. Under tensile enlongation is small,high flexibility,single wire mesh is suitable for precision pri
Description of the 110 screen printing mesh:
Low elasticity yellow 61T 110 screen printing mesh is plain weave mesh and used for Liquid Crystal Display.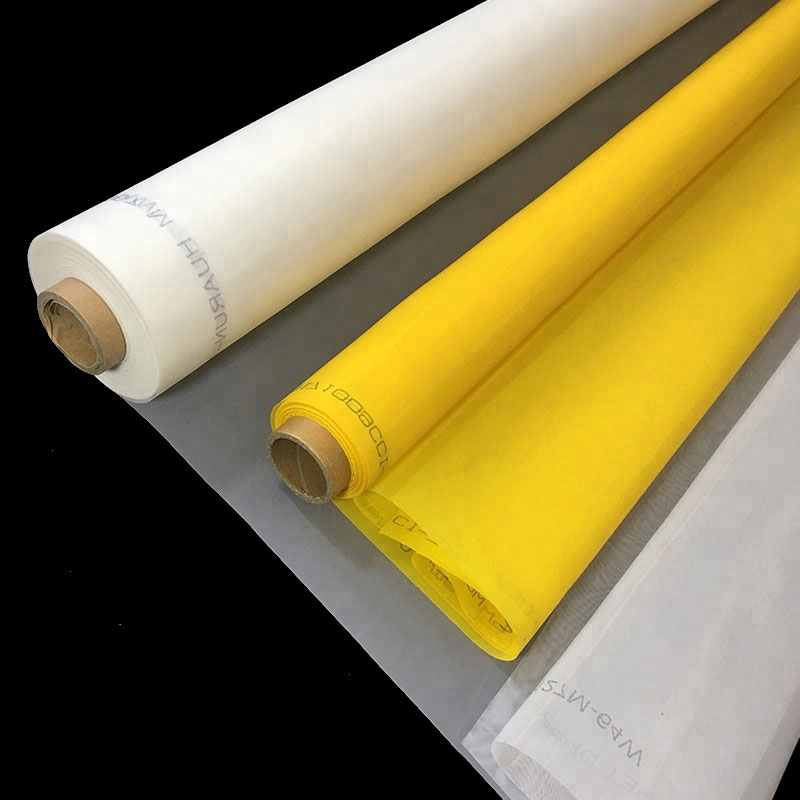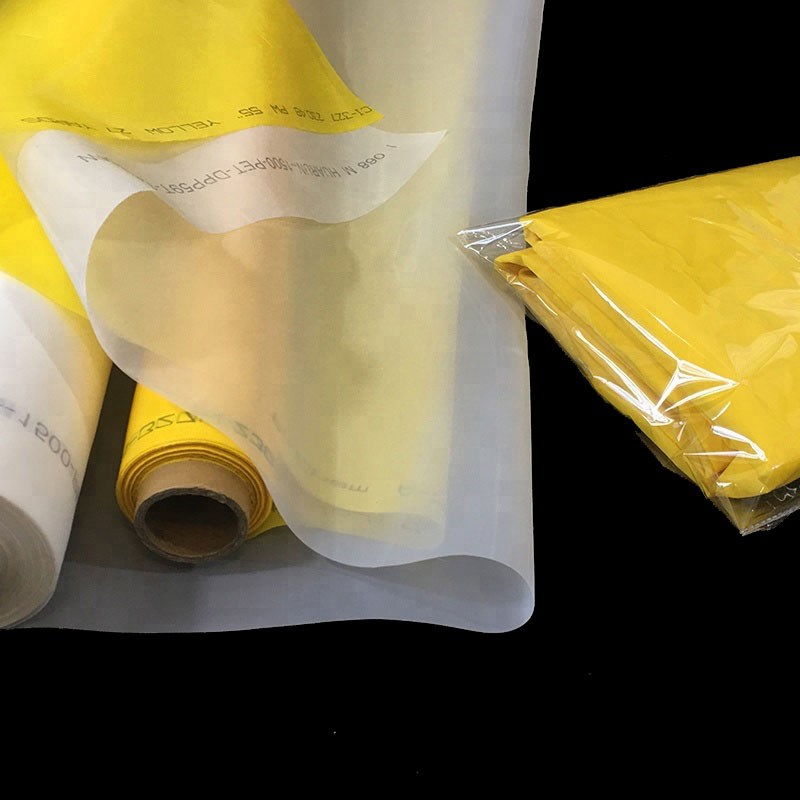 Under tensile enlongation is small,high flexibility,single wire mesh is suitable for precision printing.The tensile strength,structural strength resilience and resistant force are better.Wish sufficient drug resistant ,especially the resistant to acid,organic solvent resistance is strong.like nylon renewable use. Low moisture absorption,amost effected by humidity. High heat resistance than nylon,influenced by ultraviolet(UV) smaller than nylon.
| | |
| --- | --- |
| Name | Low Elasticity Yellow 61T 110 Screen Printing Mesh For Liquid Crystal Display |
| Material | 100% polyester |
| Monofilament | Yes |
| Application | For Liquid Crystal Display |
| Thread Diameter | 64um |
Features of polyester screen printing mesh:
1. Faster turnaround time from the screen room to the pressroom;
2. Good diathermancy;
3. High air permeability;
4. Acid resistance and Alkali resistance;
5. Long working life;
6. Hard wear;
7. Three factories for manufacturing;
8. Imported weaving machines from Switzerland and Italy;
9. Low enlongation;
10. Acid resistant;
Specification of polyester screen printing mesh:
Mesh Count
Diameter
(Mesh/inch μm)
Mesh
Count
(Mesh
/Inch)
Weave
Aperture
(μm)
Thread
Diameter
(μm)
Opening
(%)
Thickness(μm)
Thickness
Tollerance
(+/- μm)
Theoretical
lnk(cm3/m2)
Weight
(g/m2)
13-150PW(SL)
33
1:1
619
150
64
300
14
128
60
21-80pw(S)
55
1:1
296
80
69
120
9
79
35
21-150PW(SL)
55
1:1
326
150
46
260
14
118
121
24-100PW(T)
60
1:1
316
100
57
136
11
65
81
28-140PW(SL)
70
1:1
217
140
40
195
13
76
125
32-55PW(S)
81
1:1
257
55
67
103
6
67
28
32-64PW(S)
81
1:1
248
64
63
95
6
56
32
32-100PW(T)
81
1:1
212
100
45
165
8
73
75
36-90PW(T)
92
1:1
183
90
44
150
8
65
68
39-55PW(S)
100
1:1
177
55
56
88
6
55
30
40-80PW(T)
103
1:1
166
80
44
133
7
59
60
43-80PW(T)
110
1:1
149
80
41
130
7
53
64
47-45PW(S)
120
1:1
166
45*2
61
80
6
42
40
47-55PW(S)
120
1:1
152
55
51
88
6
48
34
48-70PW(T)
122
1:1
133
70
41
115
6
47
55
53-45PW(S)
135
1:1
143
45*2
57
79
7
41
46
53-55PW(S)
135
1:1
133
55
50
86
6
42
40
54-64PW(T)
137
1:1
115
64
39
100
5
39
51
54-70(PW)HD
137
1:1
109
70
35
116
6
40
62
61-64PW(T)
155
1:1
90
64
31
101
5
30
58
64-55PW(S)
160
1:1
98
55
38
98
5
36
48
64-64PW(T)
160
1:1
85
64
30
115
6
34
61
68-55PW(S)
175
1:1
85
55
34
85
4
28
48
68-64PW(T)
175
1:1
78
64
28
105
5
30
65
72-48PW(S)
182
1:1
90
48
36
78
5
33
39
72-55PW(T)
182
1:1
85
55
30
90
5
27
51
77-48PW(S)
195
1:1
77
48
35
80
4
28
42
77-55PW(T)
195
1:1
67
55
27
88
4
24
55
80-48PW(T)
200
1:1
72
48
33
74
4
25
56
90-48PW(T)
230
1:1
56
48
25
78
4
19
50
100-40PW(T)
255
1:1
58
40
33
63
3
21
37
110-40PW(HD)
280
1:1
48
40
27
64
3
17
40
120-31PW(S)
305
1:1
49
31
35
49
3
17
26
120-34PW(T)
305
1:1
45
34
30
55
3
16
35
120-40PW(HD)
305
1:1
37
40
20
63
3
13
44
130-34PW(T)
330
1:1
40
34
27
55
3
15
37
140-31PW(S)
355
1:1
36
31
26
48
2
12
30
140-34PW(T)
355
1:1
31
34
20
53
3
10
39
140-34TW(T)
355
1:1
33
34
21
56
3
12
41
150-31PW(S)
380
1:1
32
31
23
49
3
11
32
150-34PW(T)
380
1:1
23
34
13
55
3
6.5
42
165-34PW(S)
420
1:1
23
31
15
48
2
7
36
Application of the 110 screen printing mesh:
Ceramic Printing
Glass Printing
Textile Printing
Electronic Comeponeents Printing
PCB printing
Solar Printing
Touch Printing
Pre:Screen Printing Use And Pre-Ink Testing
Tags: