Polyester Monofilament Screen Printing Mesh 60-420 Mesh/inch
Polyester mesh for screen printing is one of the most advanced high-tech fabric products for screen printing. With imported high quality material, we also have the most advanced testing instruments and technicians well trained by experts to guarantee
Polyester mesh for screen printing is one of the most advanced high-tech fabric products for screen printing.
With imported high quality material, we also have the most advanced testing instruments and technicians well trained by experts to guarantee a reliable quality.
General specification of polyester mesh for screen printing: We provide polyester mesh for screen printing with a mesh variety of 20 mesh/inch, 25 mesh/inch, 30 mesh/inch, 40 mesh/inch, 50 mesh/inch, 60 mesh/inch, 80 mesh/inch, 90 mesh/inch, 100 mesh/inch, 110 mesh/inch, 120 mesh/inch, 135 mesh/inch, 160 mesh/inch, 180 mesh/inch, 200 mesh/inch, 230 mesh/inch, 250 mesh/inch, 280 mesh/inch, 305 mesh/inch, 355 mesh/inch, 380 mesh/inch, 420 mesh/inch (7T-165T).
Width of polyester mesh for screen printing:
Max. width: 3750mm.
We may also take orders to produce polyester fiber mesh with other special requirements.
History and Characteristics of Polyester Printing Screen
Polyester was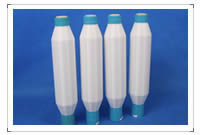 introduced to the screen printing market over 40 years ago and quickly replaced traditional silk as the fabric of choice among screen printers all over the world. It is a material that is uniquely suitable for screen printing because of its tensile strength, elastic memory and resistance to chemicals, abrasion heat and moisture.
There are 3 types of polyester fabrics used in screen printing and they are monofilament, low-elongation monofilament and multifilament. Most of today's screen printers use monofilament polyester, but the traditional type is rapidly being replaced with "Low-Elongation" fabric, which brings many new benefits to the screen printing process. Here we mainly introduce low-elongation monofilament polyester fabric as this is what we are producing now.
Monofilament polyester is woven from yarn that is extruded from heated polyester into a single strand. The extruded thread is the spun to a precise diameter. Conventional monofilament polyester screen fabric will elongate under tension: the higher the tension level, the more the thread can stretch. At excessive tension levels, the thread reaches its "plastic deformation" point, and the screen will no longer hold tension.
Monofilament polyester is still suitable for non-critical printing applications. In recent years, however, it has been eclipsed by a new development in thread technology: Low-Elongation Polyester.
Low-Elongation polyester is what we are producing now in a wide range of mesh counts, and our products offers significant advantage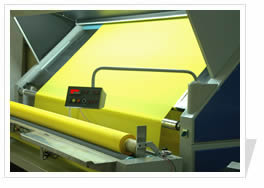 s over the traditional monofilament polyester:
Faster tensioning without damage to the threads.
Improved fabric strength.
Faster tension stabilization.
Higher tension threshold and breaking point.
Less tension loss during the stretching process.
Faster turnaround time from the screen room to the pressroom.
Improved registration due to stable tension.
Faster Print speeds.
Low elongation and high tensile strength.
Material: 100% polyester monofilament.
Mesh count: 25 mesh - 420 mesh.
Width: 115cm [45 inches] and 165 cm [65 inches], Max. 360 cm.
Color: White and Yellow.
Detail Specification of Polyester Printing Mesh
Specification
Mesh count
Thread diameter
Aperture
Opening
Thickness
Ink through volume theoretically
Tensile Strength
Mesh/inch
micron
micron
%
micron
cm3/m3
N/cm
10-200
25
200
816
65
440
276
42
10-250
25
250
740
53
465
246
60
12-200
30
200
522
47
485
228
62
16-200
40
200
435
47
420
189
48
20-140
50
140
340
46
280
129
52
20-180
50
180
320
41
350
152
56
24-100
60
100
316
58
190
109
48
24-120
60
120
300
51
210
105
42
32-100
80
100
200
43
160
69
42
36-100
90
100
178
41
175
72
42
39-55
100
55
201
62
100
62
30
39-80
100
80
172
46
142
65
42
43-80
110
80
150
41
130
55
35
48-70
120
70
135
41
115
46
32
53-55
135
55
134
50
105
53
34
54-64
137
64
115
39
102
40
30
59-55
150
55
100
40
93
39
32
64-55
160
55
101
42
105
44
30
64-64
160
64
90
32
106
34
35
72-48
180
48
94
46
80
37
32
72-55
180
55
75
29
92
27
32
77-55
195
55
70
25
88
24
29
80-48
200
48
78
30
84
24
29
80-55
200
55
70
25
88
24
29
90-48
230
48
55
25
78
20
33
100-40
250
40
58
32
65
21
29
110-40
280
40
48
27
65
17
30
120-34
300
34
45
30
55
16
30
120-40
300
40
40
20
55
16
29
140-31
350
31
35
26
48
13
27
140-34
350
34
30
20
55
10
30
150-31
380
31
32
23
47
10
28
150-34
380
34
30
20
69
10
30
165-31
420
31
25
17
49
8
28
If you need to consult the price, please contact the business department by e-mail:
Pre:CHOOSING THE RIGHT SCREEN PRINTING MESH FOR INK
Tags: