Food Grade Nut Milk Strainer Bag , Mesh Strainer Bag Plain Weave Low Elongation
Food-grade Nut Milk Mesh Filter Bags made of PA66 filter meshes NUT MILK FILTER BAGS Most dairies filter their incoming milk by means of a large tubular filter where bags are supported by perforated stainless steel baskets, (such as the LD filter). The fi
Food-grade Nut Milk Mesh Filter Bags made of PA66 filter meshes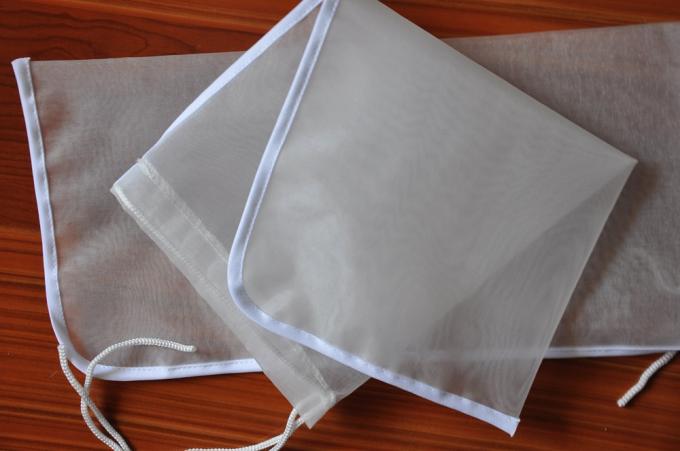 NUT MILK FILTER BAGS
Most dairies filter their incoming milk by means of a large tubular filter where bags are supported by perforated stainless steel baskets, (such as the LD filter). The filter bags are designed to filter out grass, grit and other extraneous matter.
The common material has been bleached cotton, which, because of its construction, has more cotton fibre than holes. It is also not very accurate in terms of filtration. The cotton bags, after use, are washed and dried, which is time consuming and not very cost effective.
A range of "once only" low cost disposable bags has been developed in four grades of "hygenic" polypropylene.
Course: aperture 150 – 200 microns
Medium: 125 – 150 microns
Medium Fine: 80 – 100 microns
Fine: 50 – 60 microns
Other bags and sleeves are avaialable in a similar range or can be tailored to suit a variety of applications.
MICRON – MESH BAGS
For liquids / air / dessicants / deodorising / deionising
The range of mesh bags in micron is rated from 5microns to 2000microns, they can be produced in any diameter and any length suitable for the application. Bespoke bags with attachments such as nozzles, draw strings etc. are welcome.
Liquid Filtration
Bags are suitable for any bag filter vessel on the market and are used for water, adhesives, paint, hot melt, insulation varnishes, acids, effluents etc. They are also supplied together with bulk bags, as a filter liner for larger volumes of flow and where the filtered solids could be bulky.
Air Filtration
Mesh bags can be supplied on a frame, or just as bags for the collection of lints or fibres often in the production of yarn, glass fibre, carpets, sawdust etc. They are also used for retaining paper trimmings and polystyrene beads..
many applications arise in the plastic moulding industry where air is separated from pellets in pneumatic convaying systems also in the pharmaceutical industry. Mesh tubes are used for air conditioning wher part of the tube is made impermeable, this allows air to be directed to specific areas at low pressure and even flows. Meshed frames with an overbag or adhesive are suitable for laminar air flow ceiling panels where a large area of low pressure clean air is required.
Dessicant Containers
Bags in all sizes with apertures to suit the dessicant particle size are available even for holding dessicant in large vessels to dry out hot gases in temperatures up to 300″°C.
Deodoriding…Ion Exchange…Water Treatment…Generally loading and unloading is made much easier using suitable mesh bags.
RELATED PRODUCTS
RELATED ARTICLES
Tags: