Polyester screen printing mesh - plain and tuill weave
Polyester screen printing mesh, woven from strands, was introduced to the screen printing markets for over 40 years. As a high-tech fabric, polyester printing screen mesh is made of 100% polyester yarns and quickly replaces the less reliabl
Polyester screen printing mesh, woven from strands, was introduced to the screen printing markets for over 40 years. As a high-tech fabric, polyester printing screen mesh is made of 100% polyester yarns and quickly replaces the less reliable yet more expensive silk. It outperforms traditional silk screen cloth form following aspects:

Polyester printing screen, a high-tech fabric, features high tensile strength and low elongation property.
1,Quality domestic yarns with high tensile strength and low elongation.
2,More stale than nylon and better cost performance than stainless steel.
3,Resilient yet flexible enough to be used for printing on irregular surface.
4,High durability, breaking point, elastic memory and dimensional accuracy.
5,Superb resistance to abrasion, heat and moisture
6,Faster tension stabilization allows for finer printing effect without damages to the threads.
7,Less tension loss during the stretching process.
8,Excellent water and solvent resistance.
9,Nice appearance with smooth polished surface.
10,Easy to clean and reclaim.
11,Less likely to clog during printing.
Polyester printing screens can be grouped into two distinctive categories: monofilament and multifilament.
Monofilament polyester screen printing mesh is the most concise and regular fabric that is made of single strands of material. Conventional it is prone to elongate under tension and even reaches its "plastic deformation" point once over-stretched. To overcome this problem, an advanced product - low elongation polyester printing screen mesh is supplied by our company. Single strand threads make our screen convenient to detail and register. Meanwhile, it is easy to clean and reclaim as its simple structure minimizes the possibility of clogging during printing. In addition, it displays a more smooth and polished surface than multifilament products.
Multifilament polyester screen printing mesh is twisted by multitudes of strands to form a fabric with coarse surface and similar appearance to traditional multifilament silks. And this coarseness allows for easy adhesion to stencils and heavy ink deposition, so it is considered a good choice for printing on textured or contoured surface. Multifilament polyester screen is distinguished by the letters "xx" on the label and the most common types is 8xx, 10xx and 12xx. Normally, the smaller the number is, the higher coarseness the screen will exhibit.
Besides, polyester printing screen cloth is available in various weaving patterns as shown in the following pictures: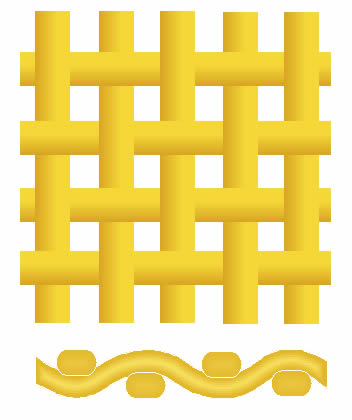 Plain weave
Plain weave, abbreviated to "PW", is a simple over and under pattern that is commonly used for screen printing. The simple structure allows for somewhat more ink to pass through than twill weave patterns.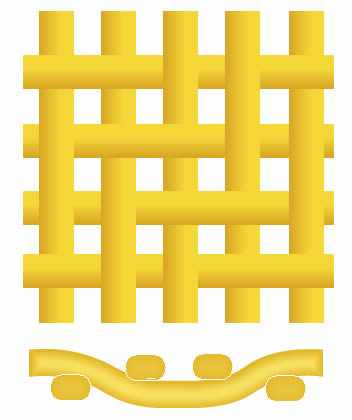 Twill weave
Twill weave, normally designated on the labels as "TW", is ideal for creating a thicker and sturdier screen printing fabric than those with plain weaves, even if the mesh count is identical. Thus, less ink is transferred.
Various applications of polyester printing screen mesh
Our range of polyester printing screen mesh is extensively used in fabric ceramic printing, textile printing, glass printing, electronic printing, CDs printing. Moreover, it also performs well in filtration, flour screen and other filtration industries.
Polyester printing screen mesh Details:
Material: 100% polyester.
Types: monofilament or multifilament.
Mesh count: 15 mesh/inch to 420 mesh/inch.
Max mesh width: 3200mm.
Color: white and yellow, other custom colors are available upon request.
Pre:How to choose silk screen printing mesh according to the substrate?
Tags: