120Mesh 48T Polyester Silk Screen Printing Mesh Fabric Sheet
120M 48T Polyester Silk Screen Printing Mesh Fabric Sheet Specifications: Color: White Material: Polyester Mesh: 120 mesh 48T Size: 1 x 1.27m Instroduction: - Fabric is used as supporter of an ink-blocking stencil Packing Included: 1 x 120 Mesh Filter She
120M 48T Polyester Silk Screen Printing Mesh Fabric Sheet Specifications: Color: White Material: Polyester Mesh: 120 mesh 48T Size: 1 x 1.27m Instroduction: - Fabric is used as supporter of an ink-blocking stencil
Packing Included: 1 x 120 Mesh Filter Sheet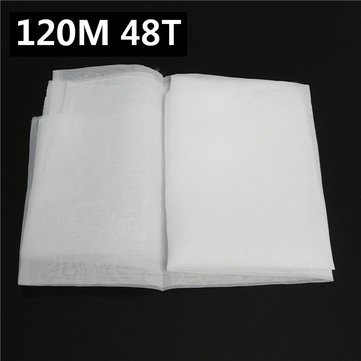 120Mesh 48T Polyester Silk Screen Printing Mesh Product details
Date First Available : 18 July 2017
Manufacturer : Generic
ASIN : B073ZZGMJY
Item model number : JA-186J-AX-AU-13818
Manufacturer : Generic
Included Components : 1
Product description
120M 48T Polyester Silk Screen Printing Mesh Fabric Sheet Specifications: Color: White Material: Polyester Mesh: 120 mesh 48T Size: 1 x 1.27m
120Mesh 48T Polyester Silk Screen Printing Mesh Instroduction:
- Fabric is used as supporter of an ink-blocking stencil.
- The extruded thread is the spun to a precise diameter.
- Polyester is woven from yarn that is extruded from heated polyester into a single strand.
- Polyester has replaced traditional silk as the fabric of choice among screen printers all over the world because of its tensile strength, elastic memory and resistance to chemicals, abrasion heat and moisture.
120Mesh 48T Polyester Silk Screen Printing Mesh Features:
-Non-toxic, odorless, tasteless, high strength, large elongation, excellent flexibility.
-With high toughness, good elasticity, resistance to weak acid, oil, alkali, wear resistance,temperature and other characteristics
-It has good insulation,low coefficient of lubricating properties,Its wide range of applications.
-Less tension loss during the stretching process
-Improved registration due to stable fabric tension
Packing Included: 1 x 120 Mesh Filter Sheet
Pre:87" 31 Thread Diameter 140T Polyester Printing Mesh For Silk Screen Printing
Next:Silk Screen 100 Mesh
Tags: