Sharp Blade Screen Printing Squeegee Blades For Advertisements 20mm Thickness
Length: 4000mm Characteristics: Sharp Blade Thickness: 20mm Material: Polyurethane Quality Level: High 30*9 Sharp Blade Screen Printing Squeegee For Advertisements Advantages of using the UNITEX Screen Printing Squeegee Blades Range Sharper printing L
Length:
4000mm
Characteristics:
Sharp Blade
Thickness:
20mm
Material:
Polyurethane
Quality Level:
High
30*9 Sharp Blade Screen Printing Squeegee For Advertisements
Advantages of using the UNITEX Screen Printing Squeegee Blades Range
• Sharper printing • Longer life
• Consistency • Quality
• Kinder to screens • Extra durability
• Low absorption • Wide range of cut to size products available
Screen Printing Squeegee Blades General
• Squeegees hardens with time – test old squeegee regularly. Do not use old squeegee that is 5 to 10 degrees more than its original hardness.
• The shelf life of the new unused squeegee is approximately two years if stored correctly.
• Do not use a squeegee without ink. It will quickly destroy the printing edge after very few passes.
Screen Printing Squeegee Blades Packaging
Your squeegee packaging is optimised to ensure it arrives
with you in the best condition possible.
• We use secure, moisture proof containers for sea
freight.
• Light weight packaging for air freight.
• Priority freight if required for fast delivery to the rest of
the world.
• Customer specified carriers when required.
Squeegee marking Unless specified at time of ordering all Unitex squeegees are marked with:
• Unitex
• HP or Marathon
• Squeegee Grade
• Batch Number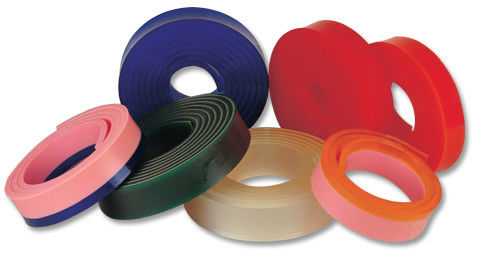 Pre:20mm Textiles Silk Screen Squeegee Rubber Polyurethane White Elasticity
Tags: