Screen printing dryer main performance and configuration
Screen printing dryer Scope of application: Screen printing dryer for solvent-based ink surface drying and moisture-containing objects drying; widely used in printing, electronics, food, chemical and other industries. Screen printing dryer
Screen printing dryer Scope of application:
Screen printing dryer for solvent-based ink surface drying and moisture-containing objects drying; widely used in printing, electronics, food, chemical and other industries.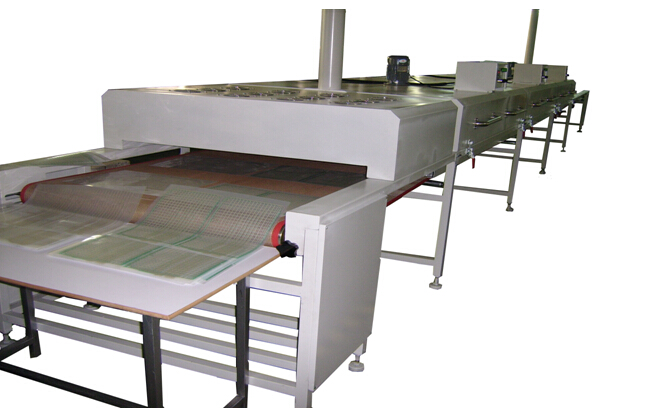 Screen printing dryer main performance and configuration
1, box split design, the length of the entire drying road 15m, the drying part is pided into 4 sections (2m for a paragraph), each of which is pided into 9 heating tubes, each heating tube distance of 175mm. Bake Road width 1m.
2, heat pipe installed in the upper, are installed in parallel.
3, the drive system using frequency control technology, Taiwan imported 0.75KW / 1: 60 gear box inverter motor, transmission speed 0-25m / min adjustable.
4, the transmission belt material is imported Teflon mesh belt.
5, Baking Road heating zone net height 200mm (each heating zone fan cycle) Each heating control using independent temperature control detector control ± 3 ℃
6, according to the different drying items, in order to make the mesh belt can withstand the maximum weight, every 300mm to install a rolling roller.
7, all heating tubes are made of ceramic far-infrared lamp in Taiwan, high temperature control accuracy.
8, drying power supply for the three-phase 380V / 50HZ, lamp voltage 380V / 50HZ.
9, the highest temperature drying tunnel can not be lower than: room temperature -250 ℃.
10 electrical components: temperature controller, buttons, intermediate relays, AC contactors are used Schneider and Omron and other imported parts.
11, all rack steel are GB materials.
screen printing machine screen printing dryer Black Flash dryer
Pre:What is a screen printing dryer?
Next:Automatic screen printing press machine and semi-automatic screen printing press What is the difference?
Tags: