Chainmail Gloves: Cut and Puncture Resistance
Chainmail gloves , also called chain mail gloves, butcher gloves or oyster gloves, are widely used for protecting users palms against sharp objects. Traditionally, chainmail gloves are made of metal with no fabric. While presently, to satisfy customer
Chainmail gloves, also called chain mail gloves, butcher gloves or oyster gloves, are widely used for protecting users' palms against sharp objects. Traditionally, chainmail gloves are made of metal with no fabric. While presently, to satisfy customers' requirements, we can also produce chainmail gloves with comfortable leather lining. What's more, the new design gloves with flexible wrist strap and adjustable metal snap-fastener design can also fit for most customers' wrist and let the customers feel more comfortable. Chainmail gloves are often made of high quality metal rings which features cut resistance and puncture resistance. Thus, chainmail gloves are widely used as butcher gloves and oyster gloves.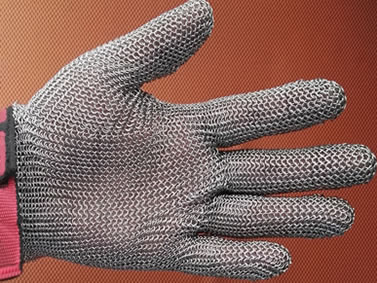 CMG-01: Chainmail glove with pink flexible wrist strap.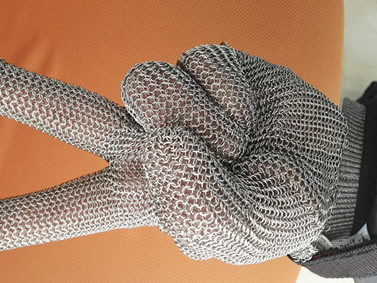 CMG-02: A hand wearing a silver white chainmail glove is making a gesture of victory.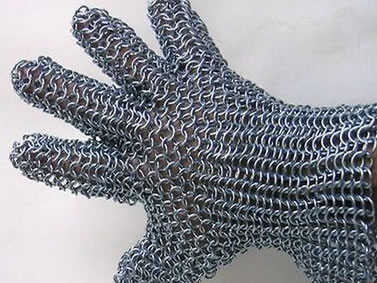 CMG-03: Galvanized chainmail glove with short sleeve.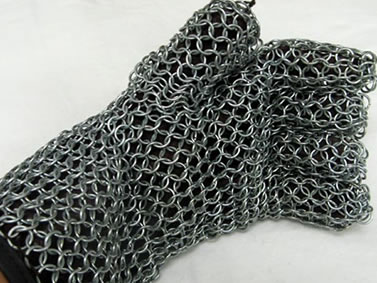 CMG-04: Chainmail glove with black lining.
Stainless Steel Mesh Hand Glove Specifications
Material:

carbon steel, stainless steel, bright aluminum, anodized aluminum, titanium, brass, copper, bronze, etc.

Linking methods:

riveting, butting and welding.

Chain link pattern:

European 4 in 1 interlocking.

Surface treatment:

zinc coating, black coating, copper plating.

Chainmail gloves size:

XXS, XS, S, M, L, XL, also can be customized.

Chainmail gloves type.

Reversible.
Three fingers with palm strap.
Fiver fingers, wrist length.
Five fingers with safety cuff and the cuff length can be customized.
Buyer customization.

Fasten strap material:

polypropylene, nylon, stainless steel or can be customized.

Fasten strap color:

white, red, green, blue, brown, orange, etc.

Fasten strap/cuff style:

replaceable.

Additional information:

wire diameter and ring diameter can be customized.

CMG-05: Brass chainmail for making the chainmail gloves.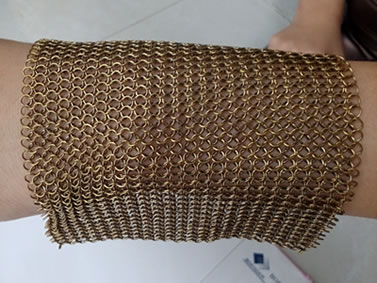 CMG-06: Brass chainmail for making the chainmail gloves with short sleeves.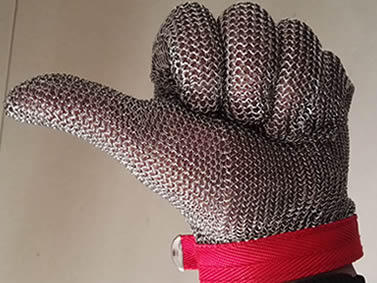 CMG-13: Chainmail glove features comfortable wearing design.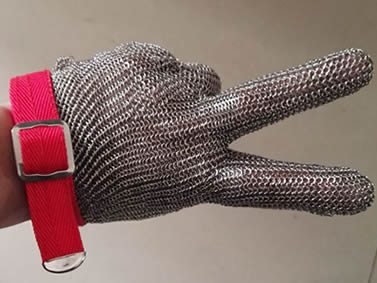 CMG-08: Stainless steel chainmail glove with metal buckle.
Stainless Steel Mesh Hand Glove Features
Flexible and lightweight.

Chainmail gloves made of aluminum are flexible and light in weight.

Solid and sturdy structure.

The rings of chainmail gloves are tightly linked together which features cut resistance, stab resistance and puncture resistance.

Reversible wearing.

The right hand and left hand can be used interchangeably when using.

Comfortable wearing design.

Metal adjustable snap-fastener design for customers specific requirements.

International standardization certification.

Chainmail gloves cut protection level have been certified by ISO/DIN standards.

More optional choices.

The chainmail gloves with flexible wrist strap can fit for wrist of any sizes.

Easy cleaning.

You can clean the chainmail gloves in dishwasher.

Perfect suit combination.

If you wear chainmail gloves with our chainmail coif, chainmail shirt and chainmail chausses, the visual effect will be perfect and impressive.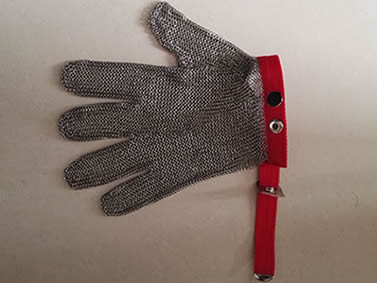 CMG-09: Chainmail gloves are reversible.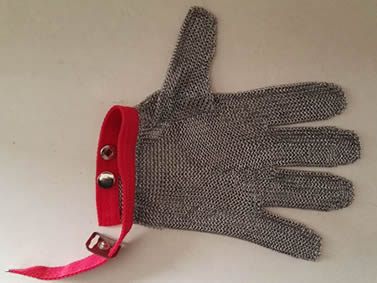 CMG-10: Chainmail gloves are light in weight.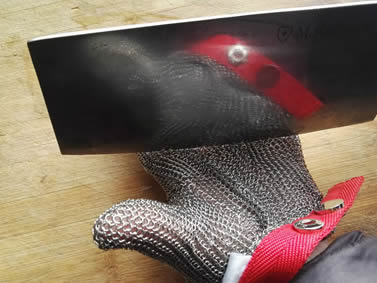 CMG-11: Chainmail glove features cut resistance.

CMG-12: Chainmail gloves have solid and sturdy structure.
Stainless Steel Mesh Hand Glove Applications
Chainmail gloves(Stainless Steel Mesh Hand Glove) can be used for in family kitchen, restaurant kitchen, supermarkets, butchery, food processing, meat processing, factory workshop, laboratory test, public security and other fields.
Food processing:

fish and shellfish processing, poultry processing, vegetables cutting, etc.

Industrial products processing:

plastic processing, leather processing, wood processing, glass processing, paper processing, cloth processing, etc.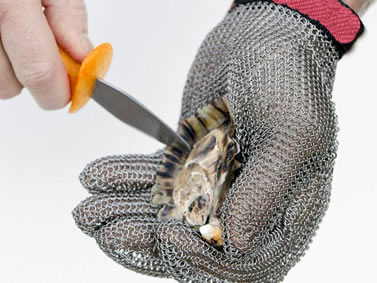 CMG-15: Chainmail gloves as oyster gloves.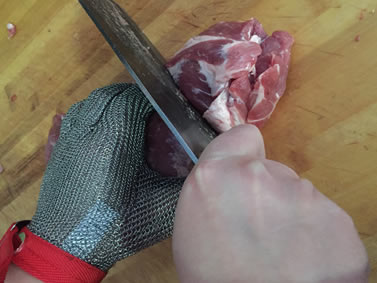 CMG-16: Chainmail gloves for meat cutting can protect your hands.
How to choose the most favorable chainmail gloves?
Please measure the circumference of your palm area and length between your middle finger and wrist, then refer to you size, choose the most favorable gloves.
Go to a restaurant supply store and try some on or go to a hardware store and try on industrial/mechanics gloves and see which are comfortable.
Draw an outline of your whole hand. Send the width and length of your fingers, palm, wrist and send it to us before ordering and then we will give you some professional advice.
If you are going to use other gloves underneath, you should choose a little larger than your practical palm's size.
Notice
If you choose a pair of larger gloves, you can tighten the wrist strap or wear other gloves underneath.
When using the mail glove, you should also make sure your finger nails are well clipped for avoid some discomfort feel when you flex the glove.
Pre:304 stainless steel cut-resistant steel wire gloves
Next:none
Tags: