Multi-Color grow bags
Multi-Color grow bags Can be used for indoor/outdoor hydroponic systems, greenhouses or your front steps. Great garden planting pots for tomatoes, flowers, vegetables, potatoes, herbs and much more.
 Product Image
Part No.
Size
Gallon
Volume/L
Size /
Bottom*Height
Single weight
Colour
 
small
2 Gallon
5
20*15CM
40
Sky blue, rose red
 
medium
3 Gallon
10
25*20CM
65
Grass green, pink
 
large
5 Gallon
20
30*25CM
85

Light green (degradable)

Khaki

 
Extra large
10 Gallon
40
40*30CM
140
 
 
 
 
 
13*18CM
 
gray
 
 
 
 
 
Light green (degradable)
 
 
 
 
 
Pink
About this item
Durable grow bags constructed of carefully sewn, breathable fabric. Outdoor 7 Gallon Pots
Provides ideal drainage and aeration. Encourages "root pruning" for a healthier root system
Reinforced Stitched Seams and Handles on Cloth Pots. Allows for easy transport after planting
Reuse Plant Bags for Several Seasons. Can be Washed and Easily stored while taking up minimal space
12" deep 13" dia 7 liquid gal. Flower pot, grow tomatoes, herbs & more!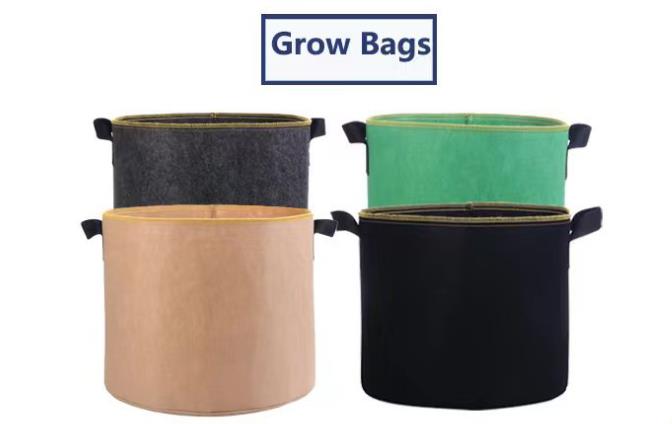 Why you need fabric grow bags?
VIVOSUN fabric grow bags readily breathe, keeping roots and soil oxygenated and cool throughout the year.Great for developing strong, fibrous roots and keeping them healthy without needing regular root pruning.
How air pruning works?
Air pruning happens naturally when roots are exposed to air in the absence of high humidity. The roots are effectively "burned" off, causing the plant to constantly produce new and healthy branching roots. If roots are not exposed to air, they continue to grow around the container in a constricted pattern.
Is it really effective for increasing yield?
Using fabric grow bag means easy watering, less stress on the plant when moved, and quicker transplant times as filling requires no more than one person instead of several people, allowing others to handle additional work in the garden.
RELATED PRODUCTS
RELATED ARTICLES
Tags: