MK-XTS4060 special screen printer for various small bags
Description
The MK-XTS4060 special screen printer for various small bags is suitable for: carton, iron box, plastic box, wooden box and other plane boxes which printing size is within 60mm *60mm, and the actual printing pattern size is within 400*240 mm.
The screen frame is suitable for all kinds of frames with maximum outer diameter within 460*350 mm and thickness within 30 mm .Only need one person , especially suitable for small batch carton, iron box screen printing.
Product Information
| | |
| --- | --- |
| Product Code | 006538 |
| Product Name | MK-XTS4060 special screen printer for various small bags |
| HS Code | 8443192290 |
| Product Color | Blue |
| Machine Using Material | Steel plate |
| Machine Surface Treatment | Electrostatic spraying |
| Attachment Material | Stainless steel or zinc plating, nickel plating |
| Packing Quantity | 1 |
| Net Weight | 6.6lb |
| Gross Weight | 7.5lb |
| Packing Size | 26*4*4in |
| Packing Volume | 0.007m³ |
| Packing Material | Export carton |

Product Features
Accurate printing positioning, positioning in various ways :
1. Carton positioning printing: the machine frame is equipped with 4 clamping positioning blocks at both ends, which can directly jam the box body edge positioning; 4 positioning blocks with pins (1.2 mm in diameter) are installed on both sides of the main frame. Pressed down after edge positioning.
The positioning pins are directly inserted into the carton for printing after complete positioning.

2. Iron box positioning printing: the machine frame has a clamping positioning block at both ends, which can directly jam the box body edge positioning; 4 magnet positioning plates are installed on both sides of the main frame. After the edge positioning, press down the printing table. The magnet is directly attached to the surface of the iron box for complete positioning and then printing.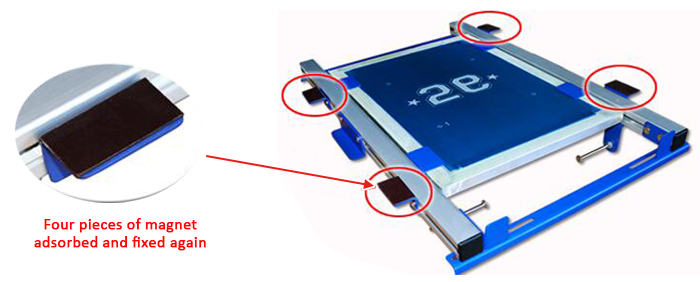 3. Positioning printing of plastic boxes, non-iron boxes, wooden boxes, etc. : according to the outside size of the printed products, install positioning plates on both ends of the main frame and stick the two sides of the box for printing.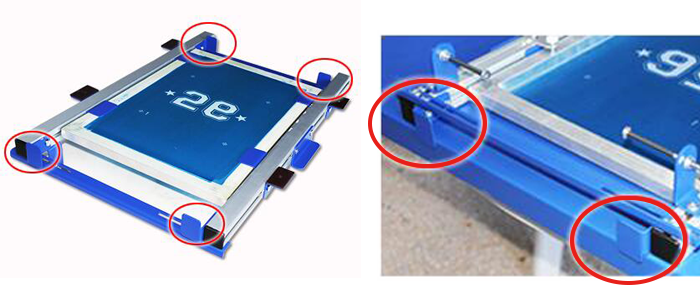 Easy operation, fast and comfortable printing :
1. Just loosen four screws to install the screen frame, and the screen frame can be directly put into the shelf. Tighten the screws to fix the screen frame, and then fix both ends of the strip card plate to completely fix the screen frame.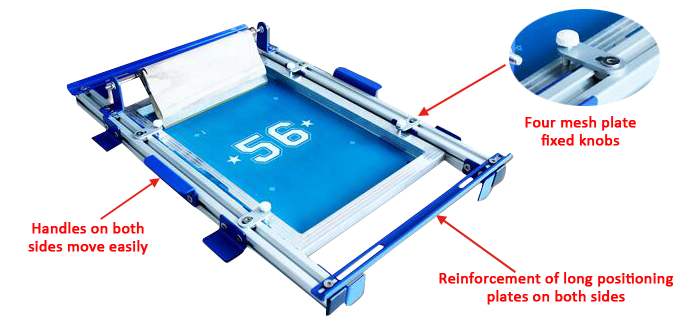 2.Squeegee rack can prevent squeegee dumping, and it is clean and tidy;
3.Handles equipped on both sides ,and it is easy to lift the whole machine to move;
4.According to the case, both sides of the clamping edge positioning block can be unilateral installation or double-sided installation;

Reasonable structure design, solid and stable overall machine :
The overall machine adopts steel plate and special aluminum alloy material which surface is oxidized treatment . Two long strips card to ensure the stability of the whole machine; All parts can be moved according to the screen frame and printing pattern, so as to achieve the most accurate positioning.
The operation is easy and the movement is convenient.
Except for aluminum alloy material, the other parts of the machine adopt electroplating surface treatment, corrosion resistance, clean resistance, long-term use without rust.All metal parts are cut by high quality steel plate with a thickness of 2mm laser. Some parts have long mounting holes for convenient adjustment.

Product Parts
Before the complete installation , all the screws should be not fully tightened ;When finished all parts' installation and the overall machine is adjusted alright,we can tighten all the screvs.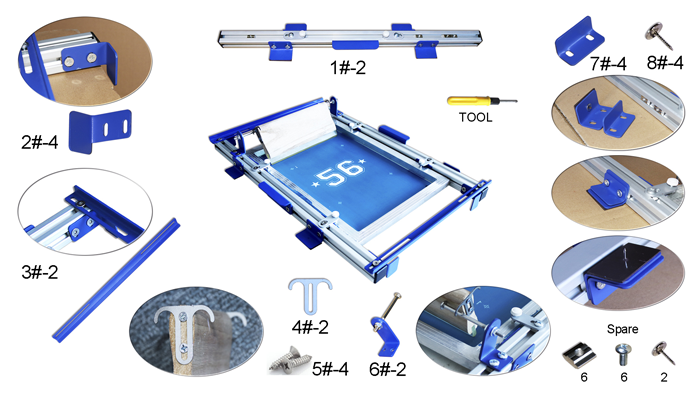 Fast delivery, the shortest time delivery of goods
Safety First, Guaranteed and Diversified Payment
After-sales service to eliminate any concerns of customers
The product has a better price:
We are a factory that produces screen printing. The more you buy, the cheaper your price.
Product Number:

Hs Code:59112000
Customers also purchased the following products
Screen Printing Mesh
6T(15 Mesh) to 165T(420 Mesh)
Screen Printing Squeegee Blade
screen printing squeegee blades on sale at wholesale prices
Screen Printing Squeegee Handle
60 durometer , 70 durometer , 80 durometer , and 70/90/70 triple durometer.
Screen printing Aluminum Frame
Screen printing screens fulfill customers' needs and are welded for great mesh adhesion.
Nylon Filter Mesh
Nylon filter mesh with a wide range of mesh sizes and various types is widely used in the industries for liquid, gas and oil filtration.
Screen Printing Machine
we have 1 color printing machine,2 color printing machine,4 color printing machine,6 color printing machine, 8 color printing machine
Screen Printing Materials
Printing materials, printing equipment, printing accessories, printing ink, printing plates, blankets, printing equipment, and other screen printing products accessories
Mesh Filter Bag
All Macrokun mesh bags are constructed using a woven or knitted fabric.
What is the price of screen printing machine?
what is the price of a screen printing machine? I...
6-colour 6-station double wheel rotatory screen printing machine T-shirt Heavy Duty DIY
This 6 color 6 station screen printing presses w...
8 color octopus screen printing machine
1)8 color octopus screen printing machine Applica...
Small screen printing machine price is how much?
Many people want to share their share of the scre...
MK-F442E floor type 4 color 4 station double wheel screen printing machine
It is mainly used for the four color T-shirt over...