Screen printing squeegee MK-PU800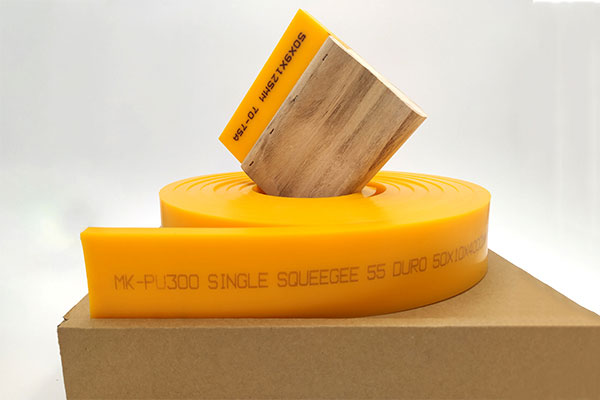 Fast delivery, the shortest time delivery of goods
Safety First, Guaranteed and Diversified Payment
After-sales service to eliminate any concerns of customers
The product has a better price:
We are a factory that produces screen printing mesh. The more you buy, the cheaper your price.
Description
Screen printing squeegee blades MK-PU800: The latest international raw materials and cutting-edge production equipment and technology research and development, with the world's top level of squeegee, the characteristics of ten with ultra-solvent and wear resistance, it is the most high-end screen printing the best choice.
Application: It is suitable for printing of touch screen, solar cell, electrode and phosphor.
Color
Red,Green,Yellow,Coffee,White,Blue.etc customize
Width
5-500mm customize
Thickness
2-30mm customize
Length
100-4000mm customize
Hardness
Soft :55,60,65 shore A
Medium:70,75 shore A
Hard:80,85 shore A
Super hard:90,95 shore A
Standard Size
Width(mm)x thickness(mm)*length(mm)
20* 5, 7 , 8 , 9* 3660, 4000
25 x 5, 7 , 8 , 9 *3660,4000
30 x 5, 7 , 8 , 9 *3660,4000
40 x 5, 7 , 8 , 9 *3660,4000
50 x 5, 7 , 8 , 9 , 10*3660,4000
How to Choose
How to choose screen printing squeegee M&K-AAAA hardness?
Soft squeegee(55,60 ) :used for moderate pressure, low mesh density, low ink viscosity. It also used for irregular shape products, glass, ceramic surface, etc.
Medium squeegee(65,70,75) :used for high pressure printing, for normal type products.like T-shirt.
Hard squeegee(80,85) :used for higher pressure and ink viscosity. Normally fine mesh printing.
Super hard squeegee(90,95):used for highest pressure and ink viscosity.
How to choose screen printing squeegee M&K-AAAA edge selection?
Flat-type squeegee is widely used in printing of ordinary materials such as paper and textile printing. This type of squeegee gluing and printing materials adaptability moderate, the greatest pressure, the ink is scraped off the screen rather than under pressure through the screen, so the minimum ink over, flat-type squeegee is the thickness of the line printing and dot printing Ideal for Ink ink level is smaller, the finer print image.
Sharp-type plastic squeegee in the printing of glass and plastic bottles can control the flow of ink well. Double blunt type plastic scraper can better control the printing angle, sharp-edged plastic scraper is also suitable for fine printing on textiles.
Groove-type squeegee used in container printing. The contact complex with the surface of an irregular object is especially good, controlling the amount of ink flowing.
Customers also purchased the following products
Screen Printing Mesh
6T(15 Mesh) to 165T(420 Mesh)
Screen Printing Squeegee Blade
screen printing squeegee blades on sale at wholesale prices
Screen Printing Squeegee Handle
60 durometer , 70 durometer , 80 durometer , and 70/90/70 triple durometer.
Aluminum Screen printing Frame
Screen printing screens fulfill customers' needs and are welded for great mesh adhesion.
Nylon Filter Mesh
Nylon filter mesh with a wide range of mesh sizes and various types is widely used in the industries for liquid, gas and oil filtration.
Screen Printing Machine
we have 1 color printing machine,2 color printing machine,4 color printing machine,6 color printing machine, 8 color printing machine
Screen Printing Materials
Printing materials, printing equipment, printing accessories, printing ink, printing plates, blankets, printing equipment, and other screen printing products accessories
Mesh Filter Bag
All Macrokun mesh bags are constructed using a woven or knitted fabric.
Screen Printing Triple Squeegee Blades
Triple Durometer squeegee is great for more difficu...
MKS-Screen Printing Squeegee
With the development of the electronics industry, t...
Fiber Glass Board Squeegee For Solar
Applicable industries: touch screen industry (cover...
Screen printing squeegee MK-PU800
Screen printing squeegee MK-AAAA: The latest intern...
Screen printing squeegee MK-PU500
Screen printing squeegee MK-III: with the best solv...
Screen Printing Squeegee MK-PU300
Screen Printing Squeegee MK-II: with the best solve...
Screen Printing Squeegee MK-PU100
Screen Printing Squeegee MK-I: has a good solvent r...
Screen Printing Squeegee Blades
Screen Printing Squeegee Blades are one of the esse...
Tags: