MKS-Screen Printing Squeegee
MKS-Screen Printing Squeegee
Fast delivery, the shortest time delivery of goods
Safety First, Guaranteed and Diversified Payment
After-sales service to eliminate any concerns of customers
The product has a better price:
We are a factory that produces screen printing mesh. The more you buy, the cheaper your price.
Description
With the development of the electronics industry, the precision screen printing industry has developed rapidly, and higher requirements have been placed on screen printing squeegee. Plet company introduces MKS-M screen printing squeegee from Japan, which inherits the excellent quality of Japanese squeegee, excellent solvent resistance and wear resistance, stable screen printing quality and high printing life, suitable for electronic screen printing.
MKS-Screen Printing Squeegee Information

Hardness---different hardness corresponds to different colors
Polyurethane squeegee
Type M
MADE IN JAPAN
Cyan—62±3A
Hardness Tester
TYPE-A
GS-719N
Green--70±3A
Blue--75±3A
Yellow--85±3A
White—97±3A
Product Descrption
Advantage:
1. This customized squeegee is suitable for cosmetic bottle printing design.
2. Made of materials imported from Japan, with excellent solvent resistance and abrasion resistance.
3. The 90-degree sharp edge design has better support, and the knife edge is not easy to be deformed and damaged. One type of squeegee, three ink volume options.

Physical properties
Project
Unit
Squeegee type M
Color
Cyan 62A
Green 70A
Blue 75A
Yellow 83A
White 97A
Hardness
JIS-A
62±3
70±3
75±3
83±3
97±3
100% stretchability
MPa
2.22
2.77
3.7
5.89
8.76
200% stretchability
MPa
3.72
4.09
5.38
8.63
12.23
300% stretchability
MPa
6.5
5.85
7.38
11.1
16.71
Maximum stretching
MPa
35.1
24.6
17.2
11.7
8.23
Tensile limit
%
632
563
521
523
520
Breaking strength
KN/m
42.4
55.5
67.7
81.5
132.4
Resistance to chemical solvents
Test time: 7 Days3.1.2 Chemical solvent resistance
Test solvent: xylene, methyl ethyl ketone
Test items: hardness change, quality change
Product Storage & Grinding

Storage:
1.Store indoors at 40℃or lower, do not store in high temperature and high humidity, direct sunlight and ultraviolet radiation. (Recommended storage conditions: 23℃±2℃, humidity 60% or lower).
2.Do not store near heat-generating equipment or dusty places.
3.It is forbidden to bend and press, stack it straight, stack no more than 20PCS.
4.The scraping rubber is stored at a low temperature for a long time, and can not be used
immediately after being moved to the workshop. It should be placed at 25℃for more than 3 hours before use.
Grinding:
Welcome to use the SPS-SG squeegee grinder for better grinding results
1. After using the squeegee, please clean the surface ink and rest on the SPS-DR squeegee rack for 12 hours, waiting for the solvent to be released.
2. M type traditional squeegee needs to be grinding in the squeegee holder; FGB/AS with support
plate squeegee can be removed for grinding.
3. Manual grinding machine for grinding
250 mesh grinding wheel: single grinding coarse grinding 0.5mm / fine grinding 0.2mm
400 mesh grinding wheel: single grinding coarse grinding 0.2mm / fine grinding 0.1mm
4.The squeegee can be polished with the SPS-Sander to smooth the edge of the knife edge.
Note:
SPS squeegee can be grinded many times, the grinding does not melt, the grinding surface is fine, and the edge is smooth.
SPS-SG squeegee grinders are available in a variety of custom-made grinding wheels:
U-shaped C-angle R-angle (K1-K5).
Look for nut milk bags with a U-shape or rounded bottom; the curved edges are easier to clean pulp out of than a bag with straight corners. In terms of size, larger options will allow for more versatile use of the nut milk bag. As mentioned above, you can make everything from yogurt to cold brew. Smaller bags are more limited in their utility and work better for brewing tea or infusing a broth with herbs.
Product Workshop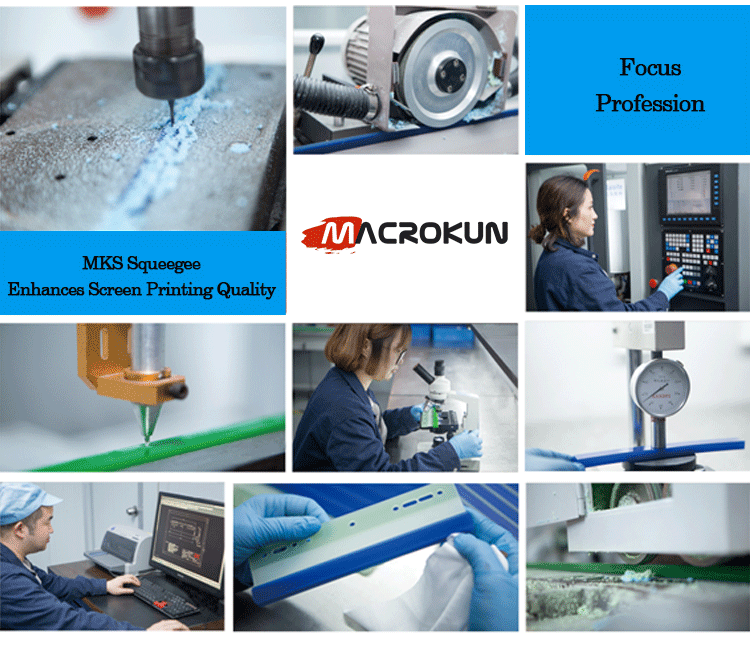 Customers also purchased the following products
Screen Printing Mesh
6T(15 Mesh) to 165T(420 Mesh)
Screen Printing Squeegee Blade
screen printing squeegee blades on sale at wholesale prices
Screen Printing Squeegee Handle
60 durometer , 70 durometer , 80 durometer , and 70/90/70 triple durometer.
Aluminum Screen printing Frame
Screen printing screens fulfill customers' needs and are welded for great mesh adhesion.
Nylon Filter Mesh
Nylon filter mesh with a wide range of mesh sizes and various types is widely used in the industries for liquid, gas and oil filtration.
Screen Printing Machine
we have 1 color printing machine,2 color printing machine,4 color printing machine,6 color printing machine, 8 color printing machine
Screen Printing Materials
Printing materials, printing equipment, printing accessories, printing ink, printing plates, blankets, printing equipment, and other screen printing products accessories
Mesh Filter Bag
All Macrokun mesh bags are constructed using a woven or knitted fabric.
MKS-Screen Printing Squeegee
With the development of the electronics industry, t...
Fiber Glass Board Squeegee For Solar
Applicable industries: touch screen industry (cover...
Screen Printing Triple Squeegee Blades
Triple Durometer squeegee is great for more difficu...
Screen printing squeegee MK-PU800
Screen printing squeegee MK-AAAA: The latest intern...
Screen printing squeegee MK-PU500
Screen printing squeegee MK-III: with the best solv...
Screen Printing Squeegee MK-PU300
Screen Printing Squeegee MK-II: with the best solve...
Screen Printing Squeegee MK-PU100
Screen Printing Squeegee MK-I: has a good solvent r...
Screen Printing Squeegee Blades
Screen Printing Squeegee Blades are one of the esse...
Tags: