MK-F662B floor type 6 color 6 station double wheel screen printing machine
Description
It is mainly used for the six color T-shirt overprinting,it is configured with four screen frame chucks and four t-shirt pallet stations.
Both the pallet part and screen frame part can rotate Independently at 360 degree;Users can operate at any station.
If one dryer is placed on a station to flash dry the surface, two users are familiar with the machine, they can print 30-50 pieces t-shirts each hour.
This machine is manual mobile screen frame to match color,All the screen frames'position is correct to any one pallet , the other one pallet will be correct , then the user can start overprinting. There is no need to correct the position of the color one by one.
Product Information
Product Code
006438
Product Name
MK-F662B floor type six color six station double wheel screen printing machine
HS code
8443192290
Product Color
blue
Printing Area
22in(55cm)*18in(45cm)
Machine using material
steel plate
Machine surface treatment
Electrostatic spraying
Attachment material
Stainless steel or zinc plating, nickel plating
Net weight
302lb
Gross weight
323.9lb
Packing size
38*38*7.3in
22.8*22.8*14in
25.2*21.7*10.2in
24*20*10in
25.6*17*16in
Packing volume
0.61m³
Packing material
Export carton
Product Features
1.Both the chuck of the screen frame and the pallet can rotate at 360 degree;Users can Operate at any position or any pallet position.
2.Users can finish all the screen frame's overprinting positioning at any pallet station,All the screen frames'position is correct to any one pallet , the other one pallet will be correct , then the user can start overprinting.There is no need to correct the position of every pallet.
3.Each screen frame's fixing device is equipped wth precise positioning wheel,when the positioning iron on the arm placed in positioning wheel closely, it can ensure the printing precision.
4.Each screen frame's fixing device is equipped wth big lock wheel, screen frame arm can easily fall into the metal positioning wheel when touch the two big lock wheels ,and it also can prevent the direct collision between the positioning iron and the metal positioning wheel.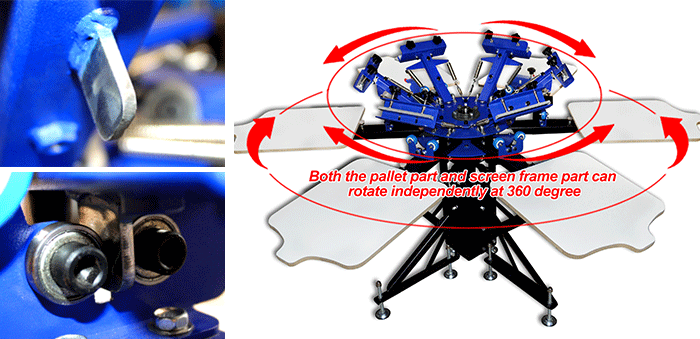 5. Each screen frame's fixing device is equipped wth adjustable height chuck positioning knobs and adjustable height knobs when lift up the acreen frame.
6. According to the weight of the screen frame, spring tension can be adjusted by the basket screws to achieve balance.
7. Screen frame chuck's width is (11in) 29 cm ; It is suitable for screen frame with outside size within (24 in) 60 cm and screen frame with thickness size is within 4 cm (1.6 in).
8. Screen frame chuck can be adjusted up to 5 cm (2 in)according to the height of substrates.
9. Screen frame chuck knob fix the screen frame together with the special aluminum alloy plate, and it can be fit closely and be more stable.
10. The pallet is directly fixed on the pallet arm by screws.
11. T-shirt type pallet of the machine is 55 cm (22 in) long, 45 cm(18in) wide, the thickness is 1.8 cm (0.7 in); Using furniture surface melamine high density board, the surface with small pits, and it is more suitable for printing T-shirt when scraping the pallet glue.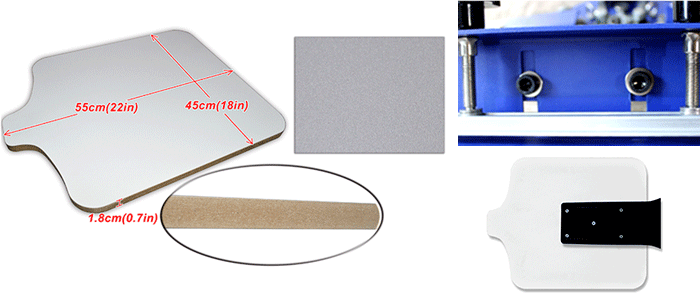 12. There are four supported skew beams at the bottom of the machine ,and it can make the machine more stable .The machine is configured with eight rack supporting feet, it can adjust the height of the machine within 20 cm (8 in).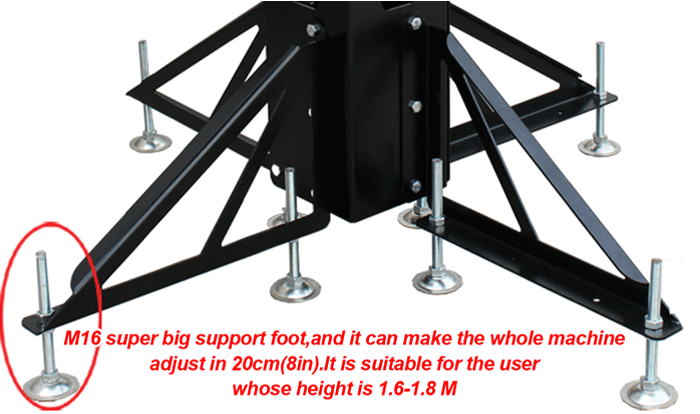 13. The machine adopts advanced electrostatic spraying process, various parts using stainless steel, aluminum alloy, nickel and zinc plating technology. They are corrosion resistance, no fading, easy to clean, maintain color and finish for a long time, and it can use for a long time with no rust.

Product Parts
All machines are configured with a full set of tools to install the machine; There is no need to prepare for other tools to complete the installation; Equipped with installation diagram and the packing list,parts installation location is very clear; All machines are configured with installation CD and operation video, it is more convenient for the user to install and use the machine .There are still spare parts in the box for users to change.
Fast delivery, the shortest time delivery of goods
Safety First, Guaranteed and Diversified Payment
After-sales service to eliminate any concerns of customers
The product has a better price:
We are a factory that produces screen printing. The more you buy, the cheaper your price.
Product Number:

Hs Code:59112000
Customers also purchased the following products
Screen Printing Mesh
6T(15 Mesh) to 165T(420 Mesh)
Screen Printing Squeegee Blade
screen printing squeegee blades on sale at wholesale prices
Screen Printing Squeegee Handle
60 durometer , 70 durometer , 80 durometer , and 70/90/70 triple durometer.
Screen printing Aluminum Frame
Screen printing screens fulfill customers' needs and are welded for great mesh adhesion.
Nylon Filter Mesh
Nylon filter mesh with a wide range of mesh sizes and various types is widely used in the industries for liquid, gas and oil filtration.
Screen Printing Machine
we have 1 color printing machine,2 color printing machine,4 color printing machine,6 color printing machine, 8 color printing machine
Screen Printing Materials
Printing materials, printing equipment, printing accessories, printing ink, printing plates, blankets, printing equipment, and other screen printing products accessories
Mesh Filter Bag
All Macrokun mesh bags are constructed using a woven or knitted fabric.
What is the price of screen printing machine?
what is the price of a screen printing machine? I...
6-colour 6-station double wheel rotatory screen printing machine T-shirt Heavy Duty DIY
This 6 color 6 station screen printing presses w...
8 color octopus screen printing machine
1)8 color octopus screen printing machine Applica...
Small screen printing machine price is how much?
Many people want to share their share of the scre...
MK-F442E floor type 4 color 4 station double wheel screen printing machine
It is mainly used for the four color T-shirt over...